LEADERSHIP
Bro. Reece Mincey and wife Patsy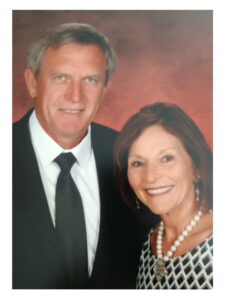 Cessel "Reece" Mincey was born in 1964 to Cessel and Elaine Mincey. He has lived in the Cedar Crossing Community all of his life. While still a child, he made a profession of faith, joined the church, and was baptized.
After his marriage to Patsy O'Neal in 1985, he again made a profession of faith at Liberty Baptist Church, Lyons, GA. Their only child Dillon was born in 1994. Reece became active in Cedar Crossing Baptist church and even taught Sunday School. He thought he was saved yet remained concerned because he possessed no peace nor joy. Finally, in January 1998, under the ministry of Pastor Wayne Smith, God revealed to him that he was a lost church member and going to hell. He surrendered his heart to God, and his life has never been the same. Immediately, he found the joy and peace he had so desperately tried to find.
Since that day, the plan God has for his life has evolved. As pastor of Cedar Crossing Baptist Church, he and his wife, Patsy, share only one goal to do the will of their heavenly Father. Only God should receive honor and glory for all He has accomplished here.
After being a devout church member and a committed pastor's wife for several years but living with doubt, the Holy Spirit opened Patsy's eyes on Easter Sunday 2014, and she was saved. Now she knows the true meaning of Easter.
In 2013 Dillon married Emily Lawrence, and they have two children Lawson and Piper. Dillon and Emily are both members and actively involved in Cedar Crossing Baptist Church.
Reece, Patsy, Dillon, and Emily would like to thank you for the love and support they receive. They realize that it is an honor to be "chosen and called out" by God to present His word with conviction and without fear or favor. They covet your prayers daily and love each of you.